With the 2020 wedding season fast approaching, we thought we'd share with you our 10 most loved wedding menus.
Deckled Edge wedding menus
Deckled edges exude uniqueness, romance and class and can work on any part of a wedding stationery suite – one of our favourites being menu cards. Deckled edges add an old-world charm to your menu cards by adding textured, frayed edges.We also love adding gold leaf to the edges for some extra pizazz. These can be such a gorgeous addition to your wedding table décor. Go one step further and have matching deckled edge place cards – so lush!
Round wedding menus
Unique shapes are all the rage this wedding season, and round menus are no exception. As always, we can create a menu design to match the rest of your stationery and style, to keep everything looking gorgeous and cohesive. For something extra spesh, we'd suggest adding some foil or letterpress to your round menus (check out the gorgeous ones we created for Melissa and Travis below).
Personalised wedding menus
Unsurprisingly, personalised menu cards are always popular with couples looking to create a stylish, minimal tablescape. Hit two birds with one stone by personalising menu cards with your guest names, so they also act as place cards.We can create personalised menus to match all of our house collections – just check out our Instagram feed and you'll get the idea!
Foil wedding menus
There's no simpler way to add a touch of luxe to your menu cards than with foil press. Simply exquisite and polished. Rose gold, gold and silver are our most popular foil colours, but there are so many more foil colours to choose from – get in touch to find out more. All of our menu designs can be printed with hot foil or laser foil (click here to read more about our printing methods).
Layered Vellum wedding menus
Vellum overlays are undoubtedly one of our favourite menu (and invitation) styles this year. If you want to add a luxe layer of dimension to your wedding menus, try doing so with a gorgeous transparent vellum overlay. Choose a backing card colour that suites your style, and pair with white ink, black ink or gold foil on the vellum layer. This is a fab way to add an extra bit of special to your menu cards. Or, if you're after a more minimal look, single layered vellum menus might for you!
Arch wedding menus
Add a little flair to your wedding tables with the much-loved arch wedding menu. Arch menus are certainly one of the biggest trends we've seen in this season and we're obsessed! Ultra chic and modern, our arch menus can be totally customised to suite your wedding. These too can be personalised with guest names if you so fancy it.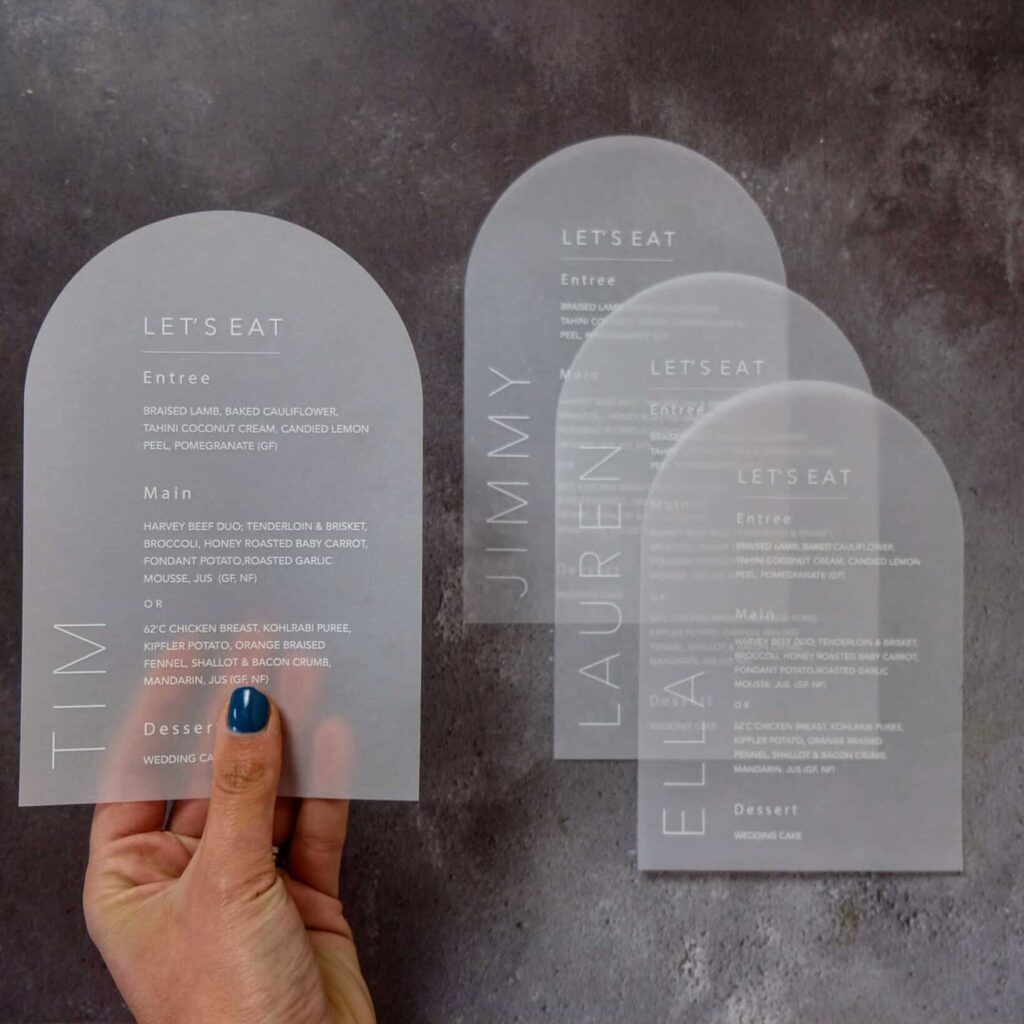 Half Arch wedding menus
The half arch, much like the classic arch shape, is all the rage this wedding season. We've all the heart eyes for the slim-style half arch seen below – perfect for the minimal, modern bride.
Minimal Menus
Keep it modern and chic with minimalistic menus. Choose a colour way that compliments the rest of your wedding table decor (think flowers, cutlery, napkins, plates, favours, etc).
Standing wedding menus
Practical, stylish, simple. Standing menu cards are perfect if you're not looking for one menu per person and would prefer to scatter a few menus around each table. Again, layouts, fonts and design can match the rest of your stationery suite.
Need some advice about your wedding menus? Or want to talk more about wedding stationery trends?! Drop us a line at [email protected] or contact us here. We'd love to hear from you!